Honor Officer
This year at the PREA&DW the following individuals were selected to be the Honor Officer from their respective regions.
Criteria for Award:
Officer, CI or CV:
❖ Innovative
❖ Involved with Cadets
❖ Good control with established standards that are seen by Cadets as sensible
and are implemented as outlined.
❖ Knowledgeable about Cadet standards and curriculum.
❖ Committed to spending extra time and effort with Cadets.
Capt Eryn Beddoes (NE Zone)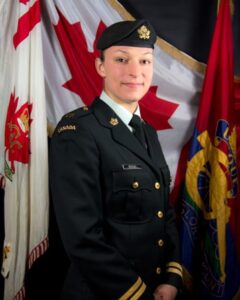 Capt Beddoes is a very dedicated officer handling full time employment and the Training Officer position with 1390 RCACC Red Deer. With virtual training in place, Capt Beddoes schedules all training including staff, senior cadets, and volunteer instructors. At one point she controlled training at two locations when all cadets were allowed in-person sessions. She is a very versatile individual in that she was continually rescheduling training due to locations, back to virtual training along with keeping sessions fun, interesting and challenging for all cadets.  Capt Beddoes has gained the respect of her peers, subordinates, and superiors with her leadership abilities, her high standard for dress and deportment, and dedication to the cadets.
2850 RCACC Grande Prairie: 2Lt. Veronica Exshaw (NW Zone)
attends all LHQ and community events when her career allows
Assumed the role of Administration Officer: she is an outstanding Officer and ensured that our Admin requirements where always on time and completed properly.
She asked to take on the role of Training Officer in 2017. Veronica stepped up and assumed this role while also providing guidance to the volunteer and Cadet instructors.
She has also taken on the responsibility of being the Deputy Commanding Officer
Has a high level of commitment regarding the physical health and mental health when it involves our Cadets. These issues involved bullying, teen suicides, health, and nourishment. With community contacts, she was able to bring in specialized speakers to address these concerns.
Veronica has worked with a local non-profit group and they worked together to have a portable AED donated. This is now utilized by all of the Grande Prairie Cadet units to ensure the safety of all Cadets, Officers and volunteers.
Congratulations to 2Lt Veronica Exshaw on this 2020/2021 Honour Officer award!
Lt(N) Casara Ogilvie (Southern Zone)
Lt(N) Casara Ogilvie has demonstrated outstanding leadership and commitment to the cadets, volunteers, and league and community members throughout her nine years of stellar service as a CIC officer. In her current position as DCO and Admin O, she has been instrumental in the standing up of the new Army Cadet Corps in South Calgary.  Lt(N) Ogilvie is an extremely capable, competent, and reliable officer; her extraordinary work ethic, methodical approach, and unwavering loyalty make her a great officer in the CCO, and someone for others to follow her example. She is a team player and always puts the cadets ahead of herself. She consistently provides service that goes beyond the normal scope of her responsibilities and beyond the scope of the CCO training programme.  We are very proud to announce Lt(N) Casara Ogilvie as the Southern Zone Honour Officer.