Honor Cadet
This year at the PREA&DW the following individuals were selected to be the Honor Cadets from their respective regions.
Criteria for award:
❖ Excellent attendance
❖ Respected by other Cadets
❖ Innovative
❖ Involved with junior Cadets, who are treated with respect
❖ Dedicated
❖ Demonstrated leadership skills
❖ Community involvement
C/MWO Douglas Smith (NE Zone)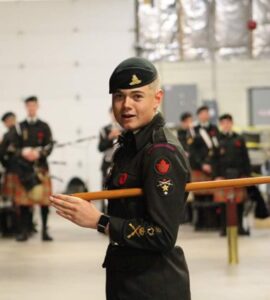 C/MWO Smith has been with 1390 RCACC Red Deer since 2015. He was top third cadet in 2018, top fourth cadet in 2019, best all round cadet in 2020, and was the Lord Strathcona recipient in 2020.  Due to his high standard in dress and deportment and involvement in all corps and extra activities in marksmanship, drill, and esprit de corps training, he was given the position of Battery Sergeant Major.  C/MWO Smith is a very versatile individual in all corps activities gaining the respect from everyone. He is always willing to assist new cadets, help cadets in preparing for instruction and leadership challenges, and is a mentor for all cadets.
2850 RCACC Grande Prairie – WO Jeremey Larter (NW Zone)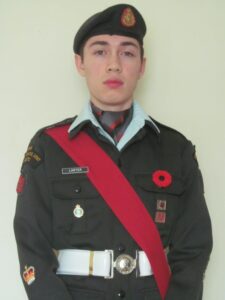 Is a cadet that every Commanding Officer wishes they had!
Consistently attends every virtual unit training event thus providing a valuable leadership example to the unit's cadets.
Since his arrival, Cadet WO Larter has demonstrated other excellent leadership skills such as:

Participating in every local training / community event and consistently sets an example by attending with "Espirit De Corps" at all times.
Terry Fox events, winter carnival, regional fiddling workshops and historical competitions. Volunteers with United Church delivering goods to different missions in the city are on his list also.
In the four years with 2850, he has won several awards plus CO Award of Excellence 2019-2020 training year. Awarded to the most outstanding Cadet of the unit!
Plus completed 5 Year Cadet workshop – completed without difficulty.
Congratulations Cadet WO Jeremey Larter for accomplishing one more award – the Army Cadet League of Canada – Alberta Branch Honour Cadet for 2020/2021!
3025 Didsbury Service Bn RCACC – WO Maddison Thomas (Southern Zone)
WO Maddison Thomas is a very dedicated cadet, always showing a high level of attendance, but this year WO Thomas registered 100% at all cadet activities.  She has taken a key role as Assistant to the Safety Officer, being responsible to ensure safe practices for in-person activities, when permitted, were adhered to, no small feat with the constant changes coming down from health authorities.  She works closely with the Admin O, learning the ropes of the position and the corps has high hopes she will continue on with the corps in the future as a CI or CIC.  WO Thomas is considered by many as the go-to person for the cadets and is a shining example of great leadership through determination and perseverance.  We are very proud to announce WO Maddison Thomas as the Southern Zone Honour Cadet.