Colonel Lee S. Thompson Award
This year at the PREA&DW the following individuals were selected for the Colonel Lee S. Thompson Award from their respective regions.
Criteria for Award:
As a volunteer anywhere in the Alberta Army Cadet League that demonstrates exceptional service.
Angela Szmidt (NE Zone)
Angela Szmidt has been involved with 1809 (LER) RCACC Edmonton for four years. She has been president of the CSC for three years. Angie is a nurse working with covid-19 group yet combines her work and corps activities in a very efficient manner. She works very well with members of the parents group, Commanding Officer, and her league rep. When she took over as president much of the paperwork was in arrears but she has managed to have all brought up to date. Angie has completed the paper work for a casino licence. She had all parties work together to have financial statements completed. She is working to become a civilian instructor for 1809. Her dedication to all in the corps has gained her the respect of everyone.
Graham Smith (NE Zone)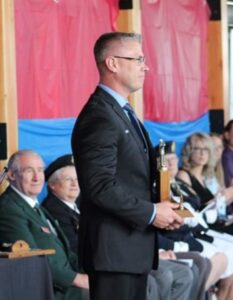 Graham Smith has been involved with 1390 RCACC Red Deer CSC for approximately five years. He is the current president where is reorganized the CSC to be more effective and to set goals which are achievable. He was instrumental in acquiring a newer vehicle to store and transport supplies on exercise and to find shelving for storage area in the armoury. His military experience helps develop senior cadets. Graham is a volunteer instructor, has driven truck to winter ex in Feb 2020, and assists with Sunday non mandatory training. Graham has the skills to fill in for any position on short notice. His son will age out this year but he will continue to be part of 1390 in the future.
2850 Grande Prairie:  Wayne Tozer and Jay Fournier (NW Zone)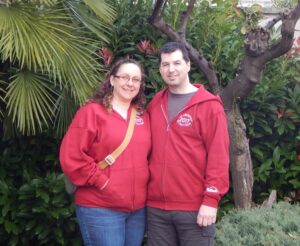 They have put in countless volunteer hours assisting the sponsoring committee in various roles:
Spearheading the 50th anniversary celebration of 2850
Volunteering on various Parent Committee positions
Development of our "Cadet Points" recognition program
Developing methods to engage other parents
Coordinating fundraising events and brainstorming new methods during the COVID pandemic (including the making of the highly successful poppy mask for Remembrance Day)
Working with the local Rotary clubs in the design and development of the future Rotary Cadet Center
They not only assist with 2850, they have also reached out to the newly formed Clairmont Sea Cadet unit and volunteered their time to mentor the newly formed Parent Committee. They have also offered their mentoring assistance to other units in NW Alberta.
Congratulations to Wayne Tozer and Jay Fournier for the 2020/2021 Col Lee Thompson Award!
2137 Calgary Highlanders: Margaret Monsacchi (Southern Zone)
Margaret Monsacchi currently wears several hats with the League.  She is the Chair for the 2137 corps support committee, a position she has held for several years.  2137 is a large corps (125+ cadets) with a very active support committee.  Margaret manages all the ins and out of this committee with a skill and efficiency rarely seen.  She has great working relations with all the staff and her League Rep.  Margaret spearheaded the Globalfest promotion event; everything from overseeing the volunteers/officers/cadets, to arranging the space with the Globalfest staff, to the promotional materials and giveaways had Margaret's attention.  Margaret currently holds the position of Vice-Chair Responsible for unit support groups.  Margaret regularly checks in with every SZ cadet corps support committee and sees what assistance the zone can offer.  She attends CSC meetings to get to know the members, to offer assistance and to learn what each CSC is doing in case it may help another corps.  She has been known to prowl cadet LHQ parking lots to recruit parents into the CSC meetings to increase the level of parental involvement in the meetings or so quorum can be met.  She has developed handouts to hand to the parents in the parking lots so they can become more informed and hopefully engaged in the CSC.  I have received several reports from different CSC members stating Margaret as such an asset that helped them overcome their hurdles.  We are very honoured to announce Margaret Monsacchi as the Col Lee Thompson Award recipient for the Southern Zone.