At the Lecture Training Centre at Edmonton Garrison on 07 April, remembering Canadians who fought at Vimy Ridge during World War One and who changed the nature of that war so much so it was the beginning of the end. We commemorate the sacrifice of the Canadians who fought at Vimy Ridge because it is there that they cemented their reputation as being troops that the Germans feared. The people of France gave the area known as the Pimple to the people of Canada in perpetuity. It is where the Vimy Ridge memorial soars above the countryside today. It is the 102nd Anniversary of the Battle of Vimy Ridge. "In those few minutes I witnessed the birth of a nation" – Brigadier-General A. E. Ross
We have many Army Cadets and Air Cadets participating in this activity. The Regular force members affiliated with each corps have members who work with the corps in drill, dress and deportment when they have a chance from their regular duties. We all appreciate the time and efforts of each of the members who do this.
The Army cadet corps participating:
180 RCACC (Royal Canadian Army Cadet Corps), Edmonton, who is affiliated with 20 Field Regiment, Royal Canadian Artillery
2051 RCACC, Edmonton, who is affiliated with Southern Alberta Light Horse
2467 RCACC, Westlock, who is affiliated with 41 Service Battalion
2716 RCACC, Mayerthorpe, with the Lord Strathcona's Horse (Royal Canadians)
2733 RCACC, Edmonton, with 41 Service Battalion.
2836 RCACC, Edmonton, with 1 Combat Engineering Regiment
The very sharp music was provided to us by members of 180 RCACC, 395 Royal Canadian Air Cadets Squadron and 810 RCACS. Their very professional presentation was enjoyed by all of the special guests and public.

Our young parade commander is Cadet Master Warrant Officer Becker from 2051.
The Reviewing Officer was Major-General (Retired) Timothy Grant, OMM, MSC, CD, and Colonel Commandant of the Army Cadets. Thank you for your support Major-General Grant. His biography includes:
He started as an Air Cadet, received his pilots' license through the flying scholarship program, commissioned and became an officer of the Cadet Instructor Cadre. After graduating with a Bachelor of Science degree he enrolled in the Canadian Forces as armour officer. Throughout his many years working as Chief of Staff and two tours in National Defence Headquarters in the Joint Operations Directorate, he was intimately involved in the planning for Canada's contribution to the Campaign Against Terrorism, post-911. He has commanded many levels of troops in Canada as well as NATO in Germany. He was in command in 1997 when Lord Strathcona's Horse (Royal Canadians) were deployed to Bosnia. He served and commanded many tours including: in 2000 the Canadian Contingent in Bosnia, 1 Canadian Mechanized Brigade Group from 2003 to 2005, Land Force Western Area and Joint Task Force from 2005 until October 2006, November 2006 until August 2007 he commanded all Canadian Forces in Afghanistan, and recently commanded ISAF combat operations in Kandahar province. He was promoted to Major-General in 2007 and appointed Deputy Commander Canadian Expeditionary Command. He retired after 31 years of service in the Regular Forces. He held senior positions in Alberta Public Service from 2008 until 2017.
Major-General Grant was invested as an officer in the Order of Military merit in 2003, and awarded the Meritorious Service Cross in 2008. He was awarded the Queen's Diamond Jubilee Medal for his role in leading the province's response to the Slave Lake fires in 2011. What an inspiration for the cadets on the parade square!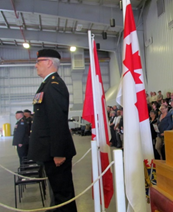 In August 2018 he assumed the position of Colonel-Commandant Army Cadets. We look forward to the future working with Colonel-Commandant Grant.
We wish to thank Major-General Grant for his participation. We recognize Master Warrant Officer David Bibby for all his work organizing the Cadets and setting things in motion for today. Thank you to the cadets and their parents for coming and participating, it was a wonderful remembrance for those who gave their life during the course of World War One.
On display were some vehicles from that era. All corps and squadrons were invited to take photos with those vehicles.

Thank you to the public and parents who came to support their cadets, watch the parade, listen to the lovely music and meet the new Colonel Commandant. Thank you to Vimy Parade committee members from the Army Cadet League of Canada – Alberta branch, and Major Gary Hollender, Army Area Advisor for organizing this very important event. It is our honor to have Captain (Retired) Joel Klein to host this event.
Respectively submitted,
Army Cadet League of Canada – Alberta
Captain (Retired) Joel Klein, Elaine McDermid
Recruiting and Public Relations